I know what you're going to say. The concept of the 2011 Academy Awards being "worth watching" seems a little optimistic, but I'm not on nitrous oxide -- not today anyway -- and there are actually some interesting stories going on.
First, the bad news: The nominees are a pretty motley list. If I had just the list to go by, I would term 2011 Oscars the "Year of Nostalgia." The top contenders are
The Artist
and
Hugo
, both movies about the good ol' days of film. The rest of the list is weighted down by old-fashioned movies about old-fashioned times, such as
War Horse
and
The Help
.
Midnight in Paris
is a movie entirely about nostalgia,
Tree of Life
and
Marilyn
hearken back to the 1950s,
Tinker Tailor
is about the Cold War, and the whole theme of
Extremely Loud and Incredibly Close
is memory and loss. Even the
Girl With the Dragon Tattoo
, which should be a slick modern thriller, has an old 1970s exploitation vibe. Apparently recognizing this, the Academy has hired Billy Crystal to host the awards.
Billy Crystal hasn't appeared in on a film poster since
Analyze That
in 2002.
A train wreck? No reason to watch?
There is, if you're willing to look.
1. Bullhead
The out-of-nowhere Best Foreign Language Film nomination for the broody Belgian
Bullhead
is my big story of this year's Oscars. Distributed by the new upstart Drafthouse Films (yes, run by the film chain Alamo Drafthouse),
Bullhead
is a tense, moody film about illegal steroid dealing in the Belgian cattle industry. The film follows a sad and 'roided-out son of a cattle family as he struggles with the family business, a longstanding crush on the girl next door, and childhood traumas that left him permanently scarred. Oh, and of course he's doing all this under the influence of massive amounts of animal steroids and hormones. Seriously, go see it; it's brutal in all the right ways.
2. Jean Dujardin
If you haven't seen
The Artist
, you may not realize what a big deal he is, but Jean Dujardin is easily the funniest French actor working today. If you haven't seen them, get on Netflix instant and watch
OSS 117: Cairo, Nest of Spies
and
OSS 117: Lost in Rio
, which are parodies of the racism and misogyny present in the early James Bond films. It's impossible to watch both of these films and come out the other side without
loving
Dujardin. They're also interesting to watch now, since Cairo, Nest of Spies was the film that put Dujardin together with director Michel Hazanavicius and actress Bérénice Bejo, who are all up for Oscars this year for their work in
The Artist
. Anyway, with Dujardin's bubbly personality and penchant for physical comedy, there's sure to be fun moments, particularly if he wins. (I'm pretty sure it'll involve the dog, too.)
3. The Descendents
Okay, so this is a regional concern. I'm "being regional." It's allowed.
Hawaii is one of the most filmed states in the U.S., but having born there and lived there twenty-three years, I could barely recognize my home from the way it's portrayed onscreen. I've seen my home become Elvis's playground, watched velociraptors roam its jungles, sat through seasons of plane crash survivors searching for civilization, and have endured Michael Bay blowing up the state's most sacred military monument (for what I can only assume was niche pornography for people who really like explosions). What I've never seen from Hollywood is a real effort to show modern Hawaii for what it really is – warts and all. So I'm rooting for
The Descendents
if only because it tells a local story about local people and local issues.
Oh, you know what else is great about The Descendents? Unlike a certain Hawaii cop show, they didn't film at Punchbowl Cemetery on Pearl Harbor Day,
then act like dicks to the Pearl Harbor Vets
who were coming to visit their fallen comrades.
4. "Man or Muppet" Performed Live
Jason Seigel, that obnoxious dude from
The Big Bang Theory
, and Jim Henson's felt-swaddled dream machines all onstage together. If you tell me you don't want to see that, you better run for the confessional booth because you're lying.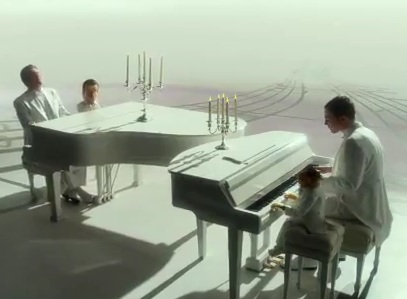 Admit it, you want this.
5. DRAMA DRAMA DRAMA DRAMA DRAMA
We love to act as if the Oscars celebrate what's best in film, and that all of us movie fans watch from our private boxes with opera glasses trained to see the height of cinematic artistry.
That's bullshit, though. We love the Oscars because it's an unpredictable, illogical, and frequently unfair. The voting is groupthink, the hosting is often stale, and there are times when we're pretty sure the presenters are on something. That's why we like it.
There's only one thing that film fans like more than watching films, and that's crapping on films we hate. When we see a movie we enjoy get snubbed in favor of one we dislike, our eyes turn amber like Anakin Skywalker and we go on a blood-soaked rampage. True story: I once dated a girl who threw her shoe at the TV when Traffic didn't win Best Picture.
Most years the hate is spread around, but this year it's all focused on
Extremely Loud and Incredibly Close
.* Someone better hand Stephen Daldry a blindfold and cigarette when he steps onto the red carpet because he's got a giant target on his forehead. If you haven't been following this story: EVERYONE HATES THIS MOVIE. Critics disliked it, audiences shunned it, it performed badly at the box office, and there are even a fairly large number of people who think its saccharine strum-your-heartstrings story is an exploitation of the September 11th attacks. It doesn't matter who you are, there's something for you to despise about this film.
Here's a barometer of how bad
Extremely Loud
is: It currently has a 46% positive rating on Rotten Tomatoes.
Here is a list of movies last year with a higher rating than
Extremely Loud and Incredibly Close
:
Thor
Fast Five
No Strings Attached
Justin Bieber: Never Say Never
Scream 4
Mr. Popper's Penguins
Final Destination 5
Red State
Real Steel
Paranormal Activity 3
Tower Heist
We Bought a Zoo
I can't emphasize enough how dismal this showing is – for Christ's sake,
Extremely Loud
barely edged out
The Green Hornet
and
Drive Angry 3D
. It simply doesn't belong in the Best Picture category if it couldn't be better reviewed than a movie about goddamn boxing robots.
You'll like it. It has both Tom Hanks AND Sandra Bullock!
People are going to throw a GIGANTIC HISSY FIT about this, which will go way beyond jokes in the opening monologue. This is going to be a legendary Oscar folly that people will refer to for decades to come, much like the infamous
Shakespeare in Love
beats
Saving Private Ryan
incident, which triggered a riot resulting in the death of eleven film critics.
And let's face it, you want to be a part of that angry mob.
*This should not be taken as a criticism of the Jonathan Safran Foer novel the film was adapted from, which is excellent. This foregoing statement has nothing to do with the fact that Jonathan Safran Foer teaches at NYU's Graduate Creative Writing program where I have applied to get an MFA. None at all. All hail Foer!